eSubsea has the knowledge, experience and expertise to perform all required design and engineering tasks for detail design of the offshore wind turbine foundations.
Bottom Fixed Foundations
For bottom fixed offshore wind turbine foundations there are three off main types used:
Gravity based foundations
Monopile foundations
Jacket type foundations (also a tripod is used)
The Jacket type wind turbine foundations is most suitable for deeper waters (>50 meters) and consists typically of the following main subsystems:
Transition piece
Work platform and boat landing
Jacket support structure with J-tubes
Suction anchors or pile sleeves foundations
The transition piece transfers the loads and weight of the wind turbine tower and generator to the jacket support structure legs and is the top part of the jacket.
The work platform and boat landing area are outside the transition piece and gives access for installation and maintenance of the wind turbine.
The main function of the support structure is to transfer loads from the turbine to the ground, allow access to the turbine for maintenance and control and to support cables down to the seabed.
The jacket structure is fixed to the seabed by suction anchors or traditional pile sleeves. It is believed that suction anchors will be more used in the future and will be used in the design. The suction anchor design is highly dependent on the soil conditions at the site.
Detail Engineering of Fixed Offshore Wind Turbine Foundations
The analysis and design is used with the most advanced structural design and finite element analysis software.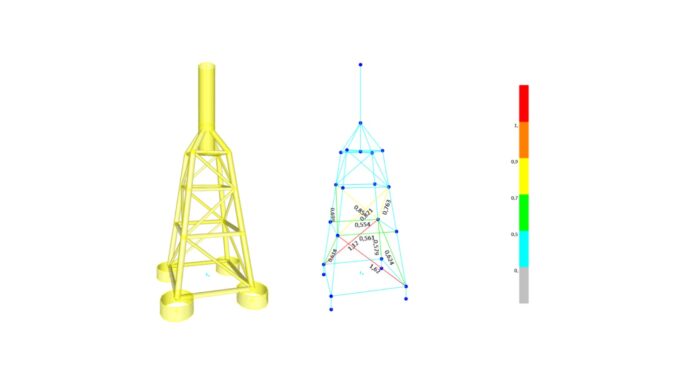 Design Basis
Structural Design and Analyses

Wind and loads from turbine

Finite Element Analyses
Fatigue Analyses
Cathodic Protection Calculations
Material Selection
3D Modelling and Fabrication Drawings
Interface handling
Outline Testing Program
Outline Installation Procedure
We collaborate and interface with your geotechnical adviser or used one of out partners for the geotechnical detail design.
Standards, Guidelines and Recommended Practices
The design will be carried out according to acknowledges and recognized codes and standard in order to have the design and project certified by any certifying Authority. The following standards are used throughout the design among many others:
DNVGL-ST-0126 Support Structures for Wind Turbines
DNVGL-ST-0145 Offshore Substations
DNVGL-ST-0437 Loads and Site Conditions for Wind Turbines
DNVGL-RP-0005 Fatigue Design of Offshore Steel Structures
NORSOK N-004 Design of Steel Structures
DNV-RP-B401 Cathodic Protection
DNVGL-RP-0416 Cathodic Protection for Wind Turbines