eSubsea design subsea and offshore padeye and lift point according to common industry practice and the following DNV, API and NORSOK offshore standards for design and certification lifting equipment:
DNV 2.7-1 Offshore Containers
DNV 2.7-2 Offshore Service Containers
DNVGL-ST-E273 Portable Offshore Units (DNV 2.7-3)
DNVGL-ST-0378 Offshore and Platform Lifting Appliances (formerly DnV 2.22 Lifting Appliances)
DNVGL-ST-N001 Marine Operations and Marine Warranty
NORSOK R-002 Lifting Equipment
NORSOK R-003 Safe Use of Lifting Equipment
DNV Padeye Design Calculations
A design report with the necessary padeye design calculations and lift point design calculations for certification, typically as a DNV Padeye, will be issued. The design report will also normally include the lifting set design calculations. A pad eye load test procedure can be made for the actual load testing set up as most standards require load testing as part of the lifting eye calculation and padeye certification.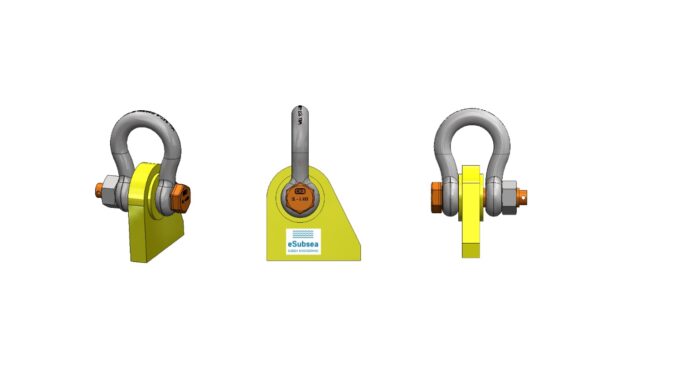 DNV Lift Point Design
The following will be included in the offshore or subsea padeye and lifting point design report:
Design Factor, Skew load factor
Safety factor
Design load and padeye side load
Bearing pressure calculations
Tear out calculations
Pad eye check plate welds
Combined stress
Lift point load test requirements
The design calculation will be the basis for shackle and lifting set sizing, design, testing issued for approval and certification of the subsea padeye or subsea lifting point.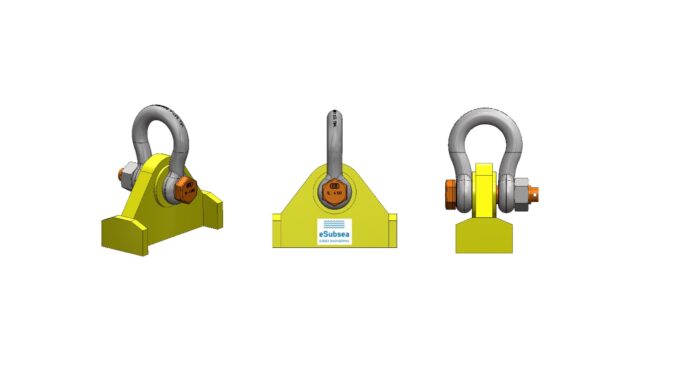 The padeyes and lift points geometry will be designed to exactly match the standard shackles rated to what the various standards specify. The shackles will typically be standard Green Pin bow shackles with safety bolts. The load direction on the pad eyes are normally 30 degrees angle from vertical, but custom pad eyes can be designed and analysed for any angle if required. The welds to the ground material shall be full penetration welds and the quality of the ground plate with tensile stress must be Z-quality.
The padeyes and lifting points must also be designed for the lateral load as defined in the design code. The lateral side load is ranging from 3 to 20 degrees based on the code and design class chosen.