eSubsea deliver cost -efficient high quality, standardised or customised durable ROV handles, adapters and flex joints. They are designed for use with any ROV manipulators or jaws, delivered fast worldwide. The ROV grab handles or handlebars, adapters and flex joints are cost optimised, adaptable for any tool interfaces and available for worldwide fast-track delivery.
Design Code and Standards
The grips are designed according to requirements from subsea code and standards as API 17H ROV interface and ISO 13628-8 ROV interfaces on subsea production systems with standard ROV handle dimensions, pitch circle diameter (PCD), interface and material requirements. Paint and coating is according to NORSOK System 7B or Xylan.
ROV Handles High Quality Materials
The high-quality subsea handles are available in carbon steel, AISI 316L stainless steel, Lean Duplex (UNS 32304) and Super Duplex (UNS32760) and standardized with coating in Orange color (RAL 2004) using NORSOK System 7B paint system or Xylan in combination with stainless steel. All handles and flex joints are fabricated according to NORSOK M-101 delivered with the required final documentation including 3.1 material certificates for temporary or permanent subsea use.
Fully Certified for Subsea Use
The ROV handles are fully certified and traceable for temporary or permanent subsea use. Each item or batch will be delivered with a documentation package including:
EN10204 Type 3.1 Material Certificate
Welding Documentation (of applicable)
Paint and Coating Documentation
Stamped Serial Number on each Item
Types of ROV Handles
The following ROV handle types are readily available:
D-handle
T-handle (small and large T-bar type)
Fishtail handle (X-bar handle)
O-handle (on request)
Custom designed ROV handles of any type
ROV D-Handle
The standard D-handle is made of quality material 316L or LD (Lean Duplex) or SD (Super Duplex) and with standard bolt circle interface. The snag free D-handle dimensions fits the eSubsea Durable ROV Flexjoint and is perfect for rotary manipulator operations, lifting and tilting of tools. The D-handle is snag free, recommended for permanent subsea installations, and suitable for both 3- and 4 finger intermeshing and parallel jaws.
ROV T-Handle
The standard T-handle or ROV T-bar is made of quality material 316L or LD or SD and with standard interface. The T-handle dimensions fits the eSubsea Durable ROV Flexjoint and is suitable for 4-finger jaws. Please be aware that T-bar handles could snag. Available in small (Ø16mm rod) and large (Ø19mm rod).
ROV Fishtail Handle
The standard ROV fishtail handle, or X-bar, is made of quality material 316L or LD (Lean Duplex) or SD (super duplex) and with standard interface. The snag free fishtail handle dimensions fits the eSubsea Durable ROV Flexjoint. The fishtail grip is great for 3-finger intermeshing jaws and parallel jaws.
ROV Tooling Adapters
The 45 and 90 degree standard ROV tooling adapters are standard and fit the subsea grabbers and subsea ROV flex joint. The plate between the flanges can be made to accommodate the required tooling loads and lift capacity the adapter will be subjected to.
ROV Flex Joint
The eSubsea Durable ROV Flex Joint or subsea ROV flex joint is a mechanical universal joint which is superior in strength and durability compared to other rubber based subsea ROV flex joints. It has standard interfaces and fits all eSubsea ROV grip types perfectly. The strong mechanical joint is machine to fine tolerances and Xylan coated and encapsulated by a thick rubber hose for protection, stability and resistance. The durable flex joint rubber is clamped on with a hose clamp in AISI316. The ROV flex joint is perfect for rotary and operations where the handle could be subjected to impact.
Specification and ROV Handle Dimensions
The grasping handles are made to the following specification and dimensions:
Design: API 17H and ISO13628-8 ROV Interface, Fabrication NORSOK M-101
Materials: Carbon Steel, AISI 316L stainless steel, Lean Duplex UNS32304, Super Duplex UNS32760
Paint: RAL 2004 or on requested, NORSOK M-501 coating or Xylan 1070/1424
Flange: Ø70mm with 4 or 8 Ø6.6mm M6 bolt holes, PCD Ø56mm
Interfaces: Flanged, pinned, welded, Custom Design on Request
Lifting and Torque Capacities
eSubsea will assist you in choosing the correct ROV handle type for your special requirements. It is important to ensure that the handles have the required lifting and torque capacities. Note the low capacity of 316L materials ROV handles. When lifting objects using ROV the distance between the CoG (Centre of Gravity) to the handle, bolts and adapters creates tension, shear and bending moments that could damage the handles if the capacities are exceeded. eSubsea will check the capacity for every delivery and include a design report on request.
The following table can be used as a starting point to chose the correct handle: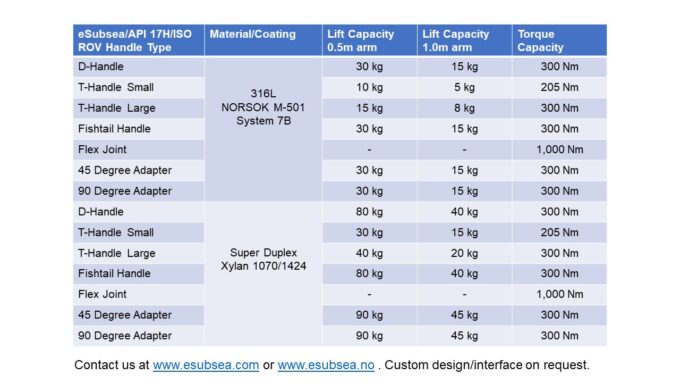 Our high capacity and durable ROV grab handles have increased structural strength, in particular in the stem area to ensure that the maximum operational linear and rotation force and fatigue loads can be handle with a high margin on safety.
ROV Tooling Interfaces
Handles and grips for ROV or grasping handles are the important interface between the ROV tooling and the ROV manipulator arm, such as torque tools, cleaning tool and hot stabs or any other subsea connection system tooling or subsea lifting set.
The eSubsea range of ROV assistance products are designed and verified to suit a wide range of ROV tooling and installed permanently on subsea structures. All handles are made with standardized product dimensions, weight and interfaces, such as flange interface (4 or 8 bolts), 2 pin interface or beveled weld interface. The handles are as standard painted with orange for optimized visibility subsea.
Custom design of any type of attachment for ROV tooling.