Wellhead Fatigue Mitigation
A Wellhead Load Relief System, is the solution for mitigation of Wellhead fatigue, which is a growing concern for most operators and drilling contractors as the awareness of the issue increases. The use of deep water drilling rigs in shallow water with heavy weight BOPs and harsh environment cause massive fatigue and accidental loadings on the subsea wells and into a very complicated pressurized well system where welds and edges create high stress concentrations which can initial cracks from fatigue.
What is wellhead load relief WLR?
Wellhead load relief or WLR is a system used in the subsea oil and gas industry for reducing the static and cyclic riser loads from offshore drilling operations into the wellhead and well system and hence reduce the wellhead fatigue to an acceptable level and increase fatigue life. The WLR system is based on supporting the BOP stack using tethers to a support on the seabed or subsea structure. 
How does a wellhead load relief system work?
The wellhead load relief system (WLR) works by supporting the subsea blow out preventer (BOP) using wires or tethers to a support on the seafloor or on a template structure. To make the WLR system work efficiently, the tethers or wires must prevent the wellhead bending moment from reaching the well system and pre-tension must be applied to reduce the fatigue damage on the lower stress ranges of the fatigue cycles. 
Wellhead Load Relief Systems
Most wellhead system have issues with both the 30 inch or 36 inch conductor housing (low pressure housing) and the 18 ¾ wellhead housing and in particular the welds between the housings and the conductor and casings. Systems for wellhead fatigue mitigation systems are needed.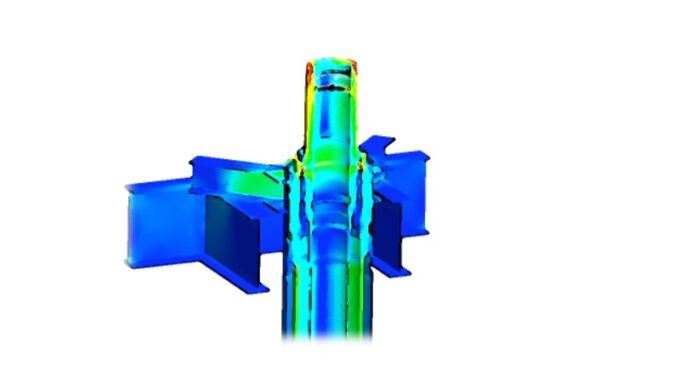 The awareness has increased as there is now WLR monitoring instrumentation available for measuring the actual wellhead bending moments and the efficiency of wellhead load relief systems. The subsea wellhead manufacturers are working on reinforcements for future drilling, but this will not help on already planned operations on installed wells and in many cases the problem is transferred to the wellhead connector or the BOP.
Wellhead Load relief WLR Systems
There are several WLR systems or wellhead fatigue mitigation systems or WLR load relief methods available today, but they all support the BOP directly or indirectly to reduce the current driven vortex induced or wave induced wellhead bending moment. The most common direct support method is by using a WLR tether system, or BOP tethering, by installing wires, steel ropes or fiber ropes between attachment points on the BOP and the seabed support. The installation is done by remote operated vehicles, ROVs, from either a support vessel or from the drilling rig.
Seabed Support for WLR Systems
The seabed support can either be gravity based, such as clump weights and mudmats, or by using suction anchors or suction piles depending of the soil conditions on the drilling site. The solution works both in shallow water operations and in deeper waters. The BOP tethering based seabed support WLR mitigation method is normal used for subsea satellite wells or template wells where it is difficult to find suitable attachment points on the subsea foundation structures.
The tethers need to be tensioned up in order for the system to be effective. ROV operated tensioners are used to provide pre-tension and to adjust tension as the tethers may be subjected to creep over time. The tensioners, support structure and tether rigging must also be designed for the riser loads transferred to them as part of the wellhead load relief process.
Suppliers of WLR Systems
SubseaDesign AS in Norway provide such tether base wellhead load relief systems and have extensive experience in WLR system engineering and design and has delivery wellhead load relief systems worldwide for many years. SubseaDesign AS can design and deliver bespoke WLR system for any subsea well, drilling rig, BOP and for any water depth and soil conditions. With their partners, they also include wellhead fatigue monitoring into the systems.
There are other WLR mitigation methods, however they can as per today not show the efficiency and reliability as is field proven for the tether WLR system.
Wellhead load relief system calculations and analysis
The drilling riser loads used in the WLR analysis, calculations and system design are normally based on NORSOK U-001 Subsea Production Systems initially and if project specific riser analysis is done, the results of these riser analysis and fatigue riser loads will be used. The annual load histograms can be found in the earlier version of the DNVGL specification NORSOK U-001 Well System Loads.
eSubsea has extensive experience from subsea well system design, analysis, wellhead load relief calculations and evaluations on how efficient these systems are to avoid wellhead fatigue. We have also been involved in design and engineering of equipment related to WLR and been involved in the pioneering research and development to mitigate wellhead fatigue.
WLR Feasibility Study
eSubsea do not deliver WLR systems directly, as most of these WLR solutions are either patented or may require license agreements, but we perform all types of well bay and well system feasibility studies, verification, engineering, analysis and design of wellhead load relief systems and wellhead fatigue. Contact us to perform a concept or feasibility study .